Henkels & McCoy, Inc., Names Chris Kahila Director of Power for the Central Region
April 26, 2017
Blue Bell, PA
Henkels & McCoy, Inc., (H&M) is pleased to announce the appointment of Chris Kahila to Director of Power for H&M's Central Region. In this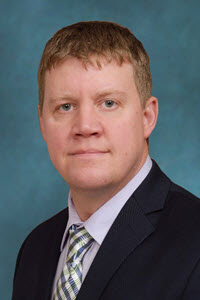 role, Chris is responsible for managing the financial and business development aspects of power transmission and distribution construction projects, including customer power distribution network maintenance and upgrade programs, within the north central United States.
Mr. Kahila has over 16 years of experience in infrastructure construction, including project management, proposal development, quality assurance, and construction operations. He began his career as an electrician and went on to serve as estimator, project manager, director of renewable energy, and senior program manager. Prior to joining H&M, Chris held positions at Amigo Centre and Byler Electric.
Mr. Kahila earned an Associate of Arts degree in Liberal Arts from Hesston College and a Master of Arts degree in Biblical Studies from Friends University in Kansas. He is a licensed master electrician, electrical contractor, mechanical contractor, and Class III Journeyman electrician.
About Henkels & McCoy, Inc.
Henkels & McCoy, Inc., (H&M) is a leading utility construction firm providing critical infrastructure for the power, oil & gas pipeline, gas distribution, and communications markets throughout North America. Founded in 1923, H&M adapts 90+ years of experience to the dynamic and evolving infrastructure needs of today. H&M consistently ranks in the top 10 of Engineering News-Record's Specialty Contractors and has been recognized with an E. I. DuPont Safety Excellence Award. H&M is a wholly owned subsidiary of Henkels & McCoy Group, Inc. For more information, please visit www.henkels.com.