Henkels & McCoy Group, Inc., Awarded the EMSDC 2017 National Corporation of the Year Award
December 6, 2017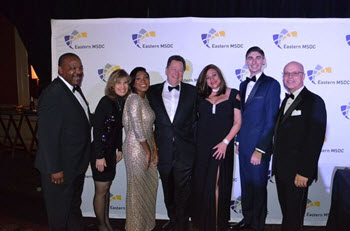 Blue Bell, PA
Henkels & McCoy Group Inc., (HMG) has been awarded the 2017 Eastern Minority Supplier Development Council (EMSDC) National Corporation of the Year Award. This award is given to the organization that shows a commitment to EMSDC diverse suppliers in their supply chain and creates substantial business opportunities for National Minority Supplier Development Council (NMSDC) certified minority business enterprises (MBEs).
Heather McCreary, Center of Excellence Manager for H&M Shared Services, stated "HMG continues to demonstrate dedication to supplier diversity through leadership commitment, MBE development strategies, educational sponsorships, and execution in engaging MBEs."
HMG received this award at the Choice Awards held in Philadelphia, PA on Friday, December 1, 2017.
About Henkels & McCoy Group, Inc.
Henkels & McCoy Group, Inc., (HMG) is a leading utility construction firm providing critical infrastructure for the power, oil & gas pipeline, gas distribution, and communications markets throughout North America. Founded in 1923, H&M adapts 95+ years of experience to the dynamic and evolving infrastructure needs of today. HMG consistently ranks in the top 10 of Engineering News-Record's Specialty Contractors and has been recognized with an E. I. DuPont Safety Excellence Award. For more information, please visit www.henkelsgroup.com.